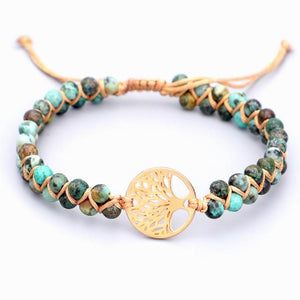 Tree Life® - Duo Handmade Charm Bracelet
The Tree Life Handmade Charm Bracelet is a great way to showcase your spiritual wokeness and individuality. Due to the fact that the bracelets are hand made, each bracelet may be slightly different from one another, in the sense that bead coloration might be slightly different amongst beads. Your bracelet will be one of a kind, just like you.

Spiritual Symbology: The tree of life has many different symbolic and spiritual meanings across cultures and religions. One main example is it is seen as a sacred connection to everything and serves as an interconnection to the universe. While having this sacred connection it also represents family through its branches growing and spanning off through generations.

Tree Life® is eco-friendly as it has been made with all recyclable materials and in support of nature.
Bracelet Style: Rope lace-up

Size: 18cm Adjustable, 20cm Adjustable